Today I welcome the one, the only, KLZ of Taming Insanity. You can also find her on Twitter here, @TamingInsanity. She's been wonderful to me, and I consider myself lucky to have met her at Blissdom, even if she did steal my banana and make fun of me mercilessly. In a short time, she has become a close friend and confidante. Please make sure to check out some of her best posts here, here, and here. And without further adieu, I give you KLZ!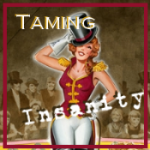 My son desperately wants to be an adult. Or, rather, a big kid. He's always pushing forward, pushing, pushing, pushing.
I'm not a fan of this mentality. I quite like him the age he is. The age where I can take pictures of him with a pirate-style whip cream goatee.
Lately he's developed quite a little motor mouth. People stare at me, shocked that a 17 month old boy says "Bless you" "Thank you" and "Please." They are not surprised that he says no.
Boys normally develop language so much slower than girls, they tell me. I smile and nod politely. But I know he's not normal. At a week old, he ripped off his own umbilical cord  because it was getting in his way. He's always been pushing.
So, we've been working on counting. When playing ball I'll count to three before tossing it to him. He knows number one, but hates it because it means waiting. He loves the number two and screams it, eager with anticipation. He ignores the number three because he's busy chasing after the ball.
Which is odd because on the potty, he loves the number one and hates the number two.
Wait, let me backtrack.
He also asks to go peepee now. Which pisses me off. I had absolutely no intention of dealing with potty training or learning anything about it until he was at least two and a half.
Instead, Alex danced in front of me on the last Thursday of January. He held his crotch, pointed at the bathroom and asked "pee pee? pee pee? pee pee?" It was bathtime so I figured, what the hell? I plopped him on the toilet.
He stared at me, then stared at his crotch, then stared at me.
"Pee pee!" he shouted.
 He did not pee pee.
Since he was all of 16 months old, I figured he didn't really understand what was happening. I assumed he thought pee pee meant sitting on the toilet. I was positive I was right.
Ah, I'm such a moron.
The next day my mother called. "Mark your calendars," she crowed. "I got Alex to pee pee on the toilet." Then she described doing the exact same thing I'd done. Except this time he'd peed. Naturally, I was pissed.
So, he keeps asking to pee on the toilet. Not every time but once or twice a day he asks to use the potty. We roll with it, since we still haven't learned anything about potty training and have no intention of doing so in the near future. It kind of cracks me up seeing how impressed he is with himself. It cracks me up more when he grabs toilet paper off the roll to wipe himself.
It does not crack me up when he grabs toilet paper off the roll to wipe himself fifteen times.
 So, last night, I sat with him as he made his nightly pee. He grabbed for the toilet paper. Patiently, I explained to him that we would only be using a little bit of toilet paper.
He nodded quietly in understanding and agreement.
Then turned to grab more toilet paper.
 I raised my voice.
 "No, Alex, just one!"
 His head swiveled to look at me, giddy with recognition.
"TWO!" he shouted. Then snatched the toilet paper roll to quickly unspool it.
 Well, at least we're learning our numbers.