Last Thursday morning, the girls and I headed to the Kansas City airport for their first Mardi Gras trip. By the time we got to the Broadway Bridge, snow was coming down; big, fat flakes flew at my windshield. I noticed a figure perched on the side of the road holding a sign that read, "Bless You. Anything helps." Slowing down, I saw his hands and face were red with cold. He was dirty and downtrodden, but his eyes conveyed so many things. Without words he spoke to me: we are not so different, you and me. Underneath the grit and tattered clothes, we are both people. We need each other. I need your help. As we stopped at the intersection, I hurriedly reached into my trusty bag (thanks to @AdamsConsulting 's thoughtful post at @BitRebels) and grabbed a pair of gloves, some tuna salad kits, several bags of nuts and a cup of Cheerios. He jumped up, bobbed his head and thanked me several times. Tears burned my eyes as I smiled at him and swallowed the desire to swoop him up and magically fix it all for him. Kindness just isn't enough sometimes, and it kills me.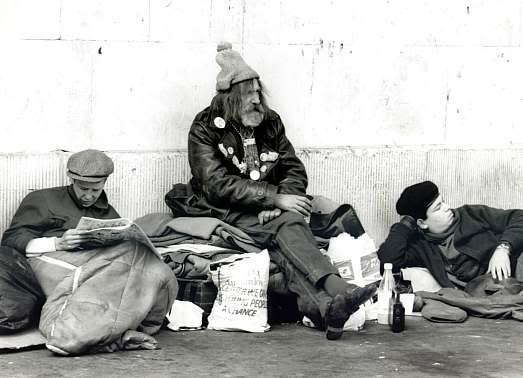 Fast forward an hour and a half to Continental Airlines flight #2426, which would take us to Houston. My girls were giddy with excitement, chattering nonstop. We were seated in the last row, and an aisle separated me from the two of them. Flying stresses me out, especially when I'm doing so alone with my children. I worry that turbulence will reveal my fear and pass it along to them (but so far I've been working hard on this and am careful to manage it). But just then the good karma I sent out into the universe via the homeless man came back to me by way of a Continental Airlines pilot named Trevor.
Trevor, my karma man, sauntered to the back of the plane and explained that he'd be sitting in the jump seat between the girls and me (i.e. in the aisle, blocking the entrance to the restroom) for takeoff and landing. Actually, I didn't even know his name was Trevor until my girls began peppering him with a bazillion questions as soon as he pulled out and set up the uber cool jump seat. We taxied for awhile and then experienced some bumps after takeoff, so Trevor was forced to hang out with us much longer than he'd anticipated.
But you know what? He was nothing short of amazing with my daughters. He told them he has two kids of his own in addition to several nieces. I offered to switch seats with him, but apparently tired-looking moms with dirty clothes and no mascara aren't allowed to sit in the jump seat. Perhaps he sensed I was on edge already, or maybe he was just brimming with kindness. I think it was both. He discussed the spaghetti scene from Lady and the Tramp with the girls,picked up their fallen Tootsie pops, and explained all about flying and the jump seat. They were completely in awe, and especially impressed by his willingness to chat about the Siamese cats Si and Am. And I was relieved–unburdened for about 20 precious minutes–not to have to deal with them quite so directly. Especially since his position between us prevented the girls from seeing me grip the armrests as we encountered a minute or two of really scary turbulence. With Trevor, they were oblivious and enthralled. He read to them from Frog and Toad and told them how he'd read the same book as a child himself.
For the second time that morning, my eyes watered.
Do you believe in karma? Please share your experiences and/or random acts of kindness in the comments!