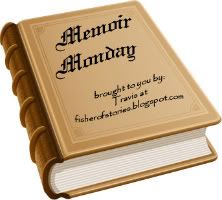 Today I'm participating in Memoir Monday, hosted by Travis over at I Like to Fish. Check out his blog for more info! Basically it just has to be something true hiding deep in the recesses of your memory. So here goes!
———————————–
I grew up in New Orleans, and my parents have some really good friends, John & Chelsea, who live in Houston. John and Chelsea have two kids, Brian and Teres, who are close in age to my brothers and me, so trips & visits always worked out well. They would often come to New Orleans to visit us and we'd go to Houston to visit them.
Back then, all of our parents smoked heavily. John and Chelsea would walk into our kitchen after the six-hour drive from Houston and suddenly my parents would light up and the heavy haze of smoke began to descend like a blanket. There was always a lot of loud, obnoxious laughter and it was only recently that I learned marijuana was sometimes involved, that it wasn't just Benson & Hedges the grownups were smoking! My parents pretended to be Ward & June Cleaver, but it was apparently a convenient disguise.
Sometimes the four adults went out to dinner and left Brian in charge. He was the eldest of all us kids, but he still knew how to have fun. As soon as the door shut behind them, we'd go up to my room and haul out the twin mattress from my trundle bed. We would take turns dragging the mattress to the top of the stairwell and riding on top of it all the way down. It was great fun. My parents often wondered why the bench and potted Schefflera at the base of the stairwell were always in different positions once they returned, but we never 'fessed up until we were older.
Anyway, we were in Houston once when I was probably seven years old. We were staying at the Adams Mark Hotel and had two rooms: one for my parents, and an adjoining room for Mark, Kevin, and me.
The trauma began early that Saturday morning when I wandered into my parents' room still wiping crust from my eyes. I discerned something very suspicious going on under the covers. Though I didn't really see anything, it was what I didn't see that was so disturbing. There was a lot of motion, rolling around, (thankfully no noise, as I'm sure they were trying not to wake us up) elbows jutting out here and there, and sheets being stretched this way and that. While I didn't exactly know what was going on, I had a pretty good idea since my parents had recently bought me a copy of this book, Where Did I Come From?. Its laughable cartoony images of naked parents will haunt me forever (I once brought this book to school to share with my friends at recess–but that is another Memoir Monday)!
I quietly backed out of their room and tried to erase what I'd just seen from my brain. I also told my brothers not to go in there and lied that mom and daddy were still sleeping and suggested we stay in our room quietly. I think I turned on some cartoons. And I began to stew about what I'd seen.
My parents got up, we all got dressed and went to grab an elevator so we could head over to John & Chelsea's house. An elevator opened up and my brother, Mark, hopped right in. The elevator quickly gobbled him up, its wide mouth closing before any of us realized what was happening. Hysteria instantly set in, as we were in a very large hotel with many floors and several elevators. We hoped that Mark had the common sense to at least stay in the same elevator and not get out somewhere. My dad went to alert the front desk to see if they could stop the elevators, etc., while my mom and I stayed right where we were. I think we were all hysterical, there was a lot of running around, panicking, and trying to get other people to help us look out for Mark on other floors.
Within about five very long minutes, the same elevator that had swallowed Mark whole returned to the lobby. It opened its mouth up wide and in one breathless moment my mom swooped in and grabbed him. Mark was grinning ear to ear and had apparently had a great time (or at least this is how I remember it, but he may have a comment or a different memory??) while the rest of us were running around like crazy people.
Once we finally left the hotel and headed over to John and Chelsea's house, my mom's radar went off and she could tell something was wrong with me. While the elevator debacle had temporarily distracted me from the debauchery I'd witnessed in the wee hours of the morning, I hadn't forgotten. I'd only grown more distressed about it. Mom finally asked me what was wrong and in a mess of tears I confessed what I'd seen. I think she was a little embarrassed herself, but she laughed and admitted that they'd been having sex. My worst fears were confirmed—MY PARENTS HAVE SEX. LOTS AND LOTS OF SEX. And not just procreational sex, which in my childlike mind was at least somewhat acceptable. This was recreational sex, sex for no good reason! Parents are not supposed to do that! Ewwwwwww!
I shudder to think of what will happen when our kids walk in on us. Perhaps that is an incentive to lock doors?!?!